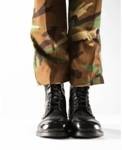 Disabled veterans often believe that because the Veterans Administration has determined them to be 100 percent disabled, that they will automatically qualify for Social Security Disability benefits. Unfortunately, this is not the case.
The VA assigns disability "ratings" in increments of 10 percent to veteran cases that indicate their level of disability. A ruling by the VA that a vet is disabled may be helpful in supporting their disability claim to Social Security, but it does not guarantee an award of disability benefits.
Veterans who may have been given a 100% disability rating by the VA, but not approved for Social Security Disability benefits may seek help from an experienced Disability Professional, if he or she feels their VA rating was not given sufficient weight in the determination to deny benefits.
Getting Legal Help
If you or a loved one needs to pursue a disability claim or wishes to discuss claim eligibility, give Disability Professionals a call at 855-201-9569 or email DisabilityProfessionals to set up your appointment today.