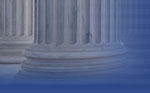 Although reports from the Social Security Administration state that the sequestration will not affect the agency, that news isn't entirely true. The good news is that benefits will remain intact, but other administrative functions may be affected.
The budget for the day-to-day operations of the Agency, will be cut, which affects the operation of field and hearing offices.  The Social Security Administration estimates that sequestration means longer wait times in field offices will occur and wait times for the 800-number will increase. The pending levels of initial disability claims could also rise by over 140,000 claims and initial decision times would increase by two weeks. Sequestration will also cost more than 5,000 Agency employees their jobs.
Claimants waiting for a hearing will have an additional month tacked onto their wait, and the progress in reducing the hearings backlog would be lost. While the Agency will try to avoid layoffs, they still remain possible. For every furlough day, 3,000 hearings would not be held by the ODAR.
Getting Legal Help
If you or a loved one needs to pursue a disability claim or wishes to discuss claim eligibility, give Disability Professionals a call at 855-201-9569 or email DisabilityProfessionals to set up your appointment today.