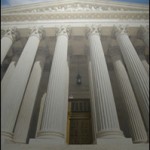 Anyone on disability knows that Social Security's disability program has a backlog of several hundred thousand claims just waiting to be decided. The staff at Disability Professionals has learned of a new lawsuit filed by the judges' union. The suit alleges that judges sometimes award benefits they might otherwise deny due to an illegal quota set by the Social Security Administration (SSA).
The lawsuit also alleges that the SSA set an illegal quota for administrative law judges to decide between 500 to 700 disability cases a year, or more than two cases per workday. The SSA calls the standard a "productivity goal."
"When the goals are too high, the easy way out is to pay the case," said Randall Frye, president of the Association of Administrative Law Judges and a judge in Charlotte, N.C. "Paying the case is a decision that might be three pages long. When you deny benefits, it's usually a 15- or 20-page denial that takes a lot more time and effort."
The lawsuit comes as the disability program faces serious financial problems. Social Security's trustees projects that the disability program's trust fund will run out of money in 2016. At that point, the system will only take in enough payroll tax money to pay 79 percent of benefits, which would result in an automatic 21 percent cut in benefits.
To fix the solvency issue Congress could redirect money from the Social Security retirement program as it did in 1994. But that fund has its own solvency problems.
The Social Security Administration employs the most judges, about 1,500. The lawsuit calls the disability program "a system in crisis."
The lawsuit was filed by the judges' union and three judges on in federal court in Chicago. It names the agency and Acting Social Security Commissioner Carolyn Colvin as defendants.
Getting Legal Help
If you or a loved one needs to pursue a disability claim or wishes to discuss claim eligibility, give Disability Professionals a call at 855-201-9569 or email Disability Professionals  to set up your appointment today.