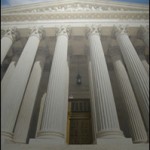 The Jewish Council for Public Affairs (JCPA) and the Interfaith Disability Advocacy Coalition recently converged on Capitol Hill in support of the Social Security Disability Insurance (SSDI) benefits program. With the fiscal cliff looming, the program, which is an important lifeline for Americans unable to work due to illness or injury, has been subject to talks of cuts. The two groups attempted to dispel myths about wasteful spending and abuse of the program by those drawing benefits.
Presentations from two former SSDI recipients, who were able to return to full-time employment after suffering tragic accidents that left them temporarily unable to work, presented the crucial advantages of the program to those desiring a return to the workforce. The first, Donna Eshghi, a full-time nurse, contracted Hepatitis C after an unexpected needle stick at work. She used SSDI benefits to support her family until she was able to return to work. Deborah Krotenberg, an Atlanta attorney, used SSDI benefits until she was able to return to work full-time after being paralyzed in a serious car accident.
Kathy Ruffing, a Senior Fellow, Center on Budget and Policy Priorities, discussed a  recent report she authored: Social Security Disability Insurance is Vital to Workers With Severe Impairments, and Curtis Ramsey-Lucas, of the American Baptist Home Mission Societies, closed the event with prayer.
"As a nation, we need to be committed to ensuring that when Americans become unable to work due to illness or accident, there is a safety net," said Rabbi Steve Gutow, President and CEO of JCPA. "SSDI is literally a lifeline for millions of Americans. People who collect disability insurance have paid into the system and therefore it is critical that the benefits they have earned are available in their time of need….as Congress and the President find ways to negotiate away from the fiscal cliff, we hope they will remember that SSDI is a critical program that must be protected."
Getting Legal Help
If you or a loved one needs to pursue a disability claim or wishes to discuss claim eligibility, give Disability Professionals a call at 855-201-9569 or email DisabilityProfessionals to set up your appointment today.