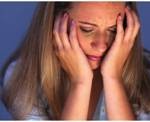 The Social Security Administration may begin to use a kinder, gentler term for "mental retardation." Instead of those words which can seem derogatory, the agency wants to use "intellectual disability" instead.
More than two years ago, Congress adopted Rosa's law, which required the language switch in all federal health, education and labor policy. Now Social Security officials said they want to make the same change although not required to do so.
"Advocates for individuals with intellectual disability have rightfully asserted that the term 'mental retardation' has negative connotations, has become offensive to many people, and often results in misunderstandings about the nature of the disorder and those who have it," the Social Security Administration posted in a notice as it proposed the new rule on Monday.
"Consistent with the concerns expressed by Congress when it enacted Rosa's Law, and in response to numerous inquiries from advocate organizations, we propose to revise our rules to use the term 'intellectual disability' in the name of our current listings and in our other regulations," states the notice.
The proposal's publication can be commented on in a 30-day public comment period before the agency makes any official change.
If the changes goes forward, all references to "mental retardation" and "mentally retarded children" will be replaced with "intellectual disability" and "children with intellectual disability" within Social Security's Listing of Impairments. There are no plans to alter the way claims are evaluated for those with the developmental disability.