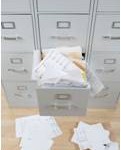 Forbes magazine recently ran an article attempting to politicize the increase in Social Security Disability Claims. Chuck Martin, President of the National Organization of Social Security Claimants' Representatives (NOSSCR), stepped in to set the record straight about the uptick in the numbers of disability claims being filed.
The increase has been expected for years due to the aging Baby Boomer population, the large sector of women that have worked the required number of years in order to be eligible for Social Security and the simple fact that the overall population has increased.
Martin also counters the article's claim with a few facts as to other Social Security filing criteria that actually holds down the number of new claims filed:
The Disability Benefits Reform Act of 1984 changed the guideline that pain alone could establish a disability to a requirement that medical evidence must support any claim for pain.
Standards for disability due to mental illness are stricter than in the past.
Disability benefits pay far less than minimum-wage jobs.
Whatever side of the political fence you stand on, the requirements for filing Social Security Disability claims are rooted in fact. If you or a loved one needs to pursue a disability claim or wishes to discuss claim eligibility, give Disability Professionals a call at 855-201-9569 or email DisabilityProfessionals to set up your appointment today.